Remember all those cheesey 80s movies about going back in time? Bill and Ted's Excellent Adventure, Back to the Future, and the like?
Well, going to visit Dave's parents is kind of like being in one of these movies, but without  Michael J. Fox and Keanu Reeves.
We all laugh at Nana (behind her back, of course) for refusing to learn how to use a DVD player, text on a cell phone or work the digital thermostat. But it's not just her allergic reaction to new technology that makes this place unique. Nana's house is like walking into a time capsule that hasn't changed since her kids were small.
Every toy, every book, every tiny piece of clothing is there. There are Barbies, board games, Slinkies, Snoopy's Snow Cone Machine, and every original Berenstain Bear book. You name it and, it's not only there, but in perfect working condition. All of her kids dress up clothes, their play clothes, their Christmas clothes. Every small item, all the way down to socks and hair bows.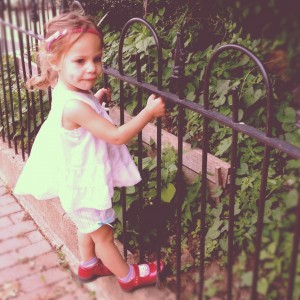 I'll admit, the first time I saw the pileup of "junk," it reminded me of a bad episode of Hoarders– especially compared to the house I grew up in. I come from a big family (my dad was one of 10 and my mom was one of 6), and  we were constantly sending our old toys and clothes to my cousins– especially the ones that lived in Kosovo. But also, my parents would give away the clothes off our backs– literally. They'd say things like:
"Give her that jacket. It will look great on her!"
"Go pack a bag of toys to send to so-and-so's kids."
"We're out of Halloween candy; go get some toys out of your room for the trick-or-treaters."
"You haven't worn that shirt in weeks. Put it in the box for that girl that just moved into town."
It wasn't all bad. For one thing, my brothers and I were always getting new things to play with– but we could never get too attached.
Nana's kids (Dave included) all seem to have acquired her nostalgic streak. And while I do enjoy a good trip back in time (especially if it's in a Delorean), I won't ever have those sentimental attachments.  Just like my parents, I am constantly giving things away, and wanting to buy new ones.
Is one healthier than the other? Well duh– if I'm doing it, we all know it's healthier. But at my house, I'm definitely outnumbered. Lira and Zana are hoarders in training. The only way to get rid of something of theirs is by sneaking it out of the house. Everything is their favorite. "Mom! Why did you throw that away? It's my favorite bubble gum wrapper!"
So what's a purger like me supposed to do with all of these things? Our storage facility is running out of space (thanks in part to a certain someone's He-Man castle and Star Wars action figures). We live on the Hill so there's no such thing as a closet or a garage. I can only think of one place for all of these things to go… a place where they will never be lost, unappreciated or forgotten, a place so full of memories that it puts a nursing home to shame. You know the place: Nana's house.