The weekend is upon us. Not just any weekend– it's Cinco de Party-o weekend! Five birthday parties in less than 48 hours. Will we survive?
If you think I'm being overly-dramatic, then you haven't met certain moms on the Hill.
Let me introduce you to one of them. Well call her Persistent Peggy (just plain old Peggy, for short).  Here's an example of a conversation that may or may not have happened last night…
Peggy: Hi Besa, I was wondering if you got an invitation to so-and-so's birthday party tomorrow? My daughter says she's invited but I never got one.
Me: I got an evite a couple of weeks ago. Did you check your email?
Peggy: I didn't see one, but maybe it went to my old email address.
Me: Maybe…..
Peggy: Can I get so-and-so's mom's phone number so I can call and see if she's invited?
Me (silently to myself): Sure, great idea. That won't be awkward or anything.
Me: Let me look at the evite and see if the number is there. Oh, look! A list of who was invited. Only a very small group of girls and I don't see your daughter on the list. Sorry.
Peggy: Can I have her mom's number anyway??
Me (silently to myself): Good God, are you seriously going to call and invite your daughter to the party?
I gave the number and hung up wondering if I should call the other mom to warn her. Nah…
Fast forward to the next morning at dance class– would you believe that Peggy asked us to take a gift to the birthday girl on their behalf?
Why do I feel like this is the beginning of a news story? I think we all remember that Texas Cheerleader mom.
As I walked Lira and the two presents into the birthday party, I couldn't help but think…I barely have time to deal with my own social life, much less my daughter's.
It feels like a bad episode of Maury Povich. You know the ones: a girl who didn't feel pretty enough or cool enough in high school wants to show how gorgeous and awesome she has turned out to be. She's usually a stripper now.
The point is… wouldn't it be great if we didn't push our own insecurities on to our children?! If your kid isn't invited to a birthday party, that's ok! It may not feel ok to you, but it is. I'll admit that when Lira isn't invited to a party it bothers me a little. Here's how I deal with it: I remind myself that Lira is more charming, beautiful and witty than their child. If they invited Lira, she would outshine the birthday girl! So really, I can't be upset. It's like how some women pick less attractive friends to be their bridesmaids.  It's not how I chose to do things at my wedding, but I'm also a Gisele Bundchen look-alike so I never had to worry about that.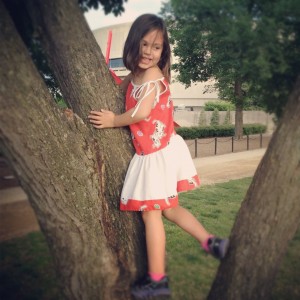 One party down, four to go!  I wonder who wasn't invited to those parties.