The evidence has been building, and it's all pointing toward one thing: Lira is turning into a girl. Yes, I've known her gender since well before birth– but this goes beyond pink onsies. Here were the first clues:
1. "I want to go to my hair lady!" During a recent mall visit, I suggested a quick haircut at Cartoon Cuts. They show you cartoons while they do your hair. What's not to like about that?!  But little missy wasn't having it, and I wasn't in the mood to argue. We went to her hair lady later that week.
2. "Everybody's going to laugh at me!" When I didn't fix her hair the way she wanted it yesterday, she sobbed that she'd be the laughingstock of Kindergarten. So I did what any reasonable mom would do: yanked the rubber bands and barrettes out of her head and told her to it herself.
3. "I can't wear this!" This one happened tonight when we showed up at her school just in time to walk her into the cafeteria for the Valentine's Day dance. She was wearing her DC public school uniform, and was mortified at the thought of going to the dance without going home to change first. I pointed out that a lot of other kids were in their uniforms. After sobbing, then apologizing, then asking me again (politely this time) if I'd take her home to change… I told her Daddy could if he wanted to. He's a sucker for those tears.
When Lira arrived back at school, she twirled right onto the dance floor like she owned the place. That Easter Dress from 2 years ago apparently hasn't gone out of fashion.
The school dance was one to remember. It was a lot like a night out at a club minus the liquor.
The kids were jamming to unedited Nikki Minaj songs (I swear heard the F bomb, but nobody else seemed to notice), teaching each other how to Dougie, and crawling on the floor in an effort to prove that they do, in fact, have the Moves Like Jagger.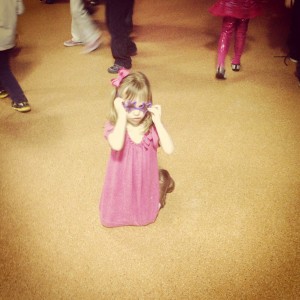 By the end of the night, they were sweating, taking off articles of clothing, and had spent way too much money on pizza, juice boxes, pictures, and Mardi Gras beads. They didn't even have money for a cab ride home, but it's cool 'cause they found some suckers to drop them off.
Here they are just before the dance ended:
Then it was straight home to binge on Valentines candy before bed. They fell asleep talking and giggling while I listened from the other room.
"We went to the disco ball… you were dancing like this… remember when you did this?"
I remember hundreds of nights in college that ended the same way.
If Lira has to be a "girl," at least she's one who knows how to party. Maybe I'll be one of those moms who tags along with her daughters at the club. Wouldn't that be awesome?!