Once upon a time, a little girl had a big tantrum. Her mom put her in time out, she learned her lesson, and it never happened again. The end.
Bahahahaha isn't that a hilarious story?!
Anyone who has a child has seen a tantrum, and if you have a "spirited" child you've seen more than a few. They cry, they scream, they fling themselves on the ground– sometimes banging their head on a nearby table. Their eyes become wild, and you wonder when the devil took over your child's body, and what kind of exorcism it will take to get sweet little Sally back.
Let me tell you about my latest episode. It started with a quick shopping trip that may have started around bedtime (don't judge). We had just left DSW, where a 5- minute look in the Clearance section ended with me losing Zana. I found her on a ledge hiding behind the summer handbags. Next on the roster, a quick stop at TJMaxx. Since I wasn't born yesterday, I knew not to go shopping alone with Zana and had my friend Caroline with me for backup.
When we got inside, I strapped little Z into a shopping cart. "Let's go for a little ride!" She was excited for a total of 30 seconds, when she realized her plan to hide in the racks of clothing had been foiled. She started to get frustrated, reaching out of the cart to try and grab anything she could get her hands on, struggling unsuccessfully to undo the seat belt, raising her voice in protest. Here's what happened next…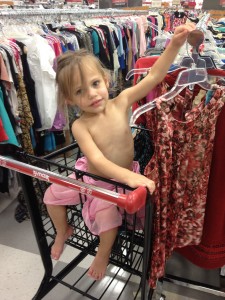 I started to respond, "Zana…" Oh, forget it. I talked myself down and reminded myself that she wants me to get upset and that I'm the adult in this scenario.  Then…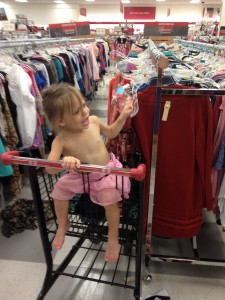 I remained calm– and also started snapping pictures because, let's be honest, it's very entertaining. Well, that just made her angry…
At this point, she's screaming her head off. I know I could have easily walked out of the store, which is what I would have done with my first child (when I cared what people thought), but I needed a new hair straightener and decided to complete the shopping trip despite all of the looks. You know the looks, right? Everyone has an opinion and nobody is afraid to show it. [Read more…]