I'm not sure what day it is anymore, thanks to a sick 2 year old, but I'm pretty sure it's not Sunday. That's when we went to the National Postal Museum, and it seems like weeks ago. Since then, I've changed Zana's sheets at least 3 times, spent a couple of  sleepless nights, and made it to work (physically, but definitely not mentally) once or twice.
In celebration of things getting back to "normal" around here, let's revisit our last normal day: Sunday Funday!
We started at our favorite coffee shop, only this time we brought friends. That means there were six people in the coffee shop basement instead of the usual four– packed house! They had so much fun, they're going to make it a weekly thing too. Trust me people, I don't lie about awesomeness.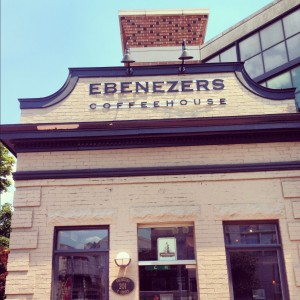 We enjoyed our lattes and planned our walk past Union Station to the Postal Museum, another favorite of ours that's never busy.
I love it because it's small enough that I (usually) don't lose my kids, but big enough for them to wear themselves out.
Highlights include:
airmail planes hanging from the ceiling
a railway car used to transport mail (the old toilet in the corner of the car is a big hit in our family)
a tractor trailer cab (it's meant for kids, but since it's Dave's dream to be a trucker, he usually monopolizes that exhibit)
the "spooky forest" that leads to a stage coach where you can pretend you're in the Pony Express
the newest exhibit called "Systems at Work." It takes you through what happens when you drop a letter in the mailbox (the kids couldn't get enough mail sorting)
You can see all of these things and feel very safe at the same time. Why? Because this museum has the highest security guard-to-museum patron ratio of any place I've ever been. As long as you're not a crying one year old who refuses to walk through the metal detector alone, or a seven year old who turns around on the escalator, you probably won't be bothered. Oh, and don't walk away from your stroller either. They will find you.
I'm guessing the security guards are just bored, because the museum is always empty.  Surprisingly, people aren't beating down the doors to get into the philatelic palace. But hey, their loss is our gain!
We ended the date with lunch and gelato at Union Station, followed by playtime in Nana's front yard.
If someone would have warned me about Zana's impending sinus infection, we probably could have skipped some of this and rested up for the all-nighter. Did you know sinus infections can cause vomiting? Me neither…