The fam has been passing around a stomach bug for the past couple of weeks. I was the grand finale. The bug took me out and I spent a full 24 hours moaning under the covers.
Zana was concerned. "Mommy, are you ok?"
"Ugh, Mommy might throw up," I told her.
"Drink some water and you might feel better. Want me to bring you something to eat?" Every half an hour or so, I'd hear those 3-year-old feet running down the hallway into my room to check on me. She'd kiss my arm and ask me if I was any better.
Meanwhile, downstairs… Lira was on Disney.com and couldn't be bothered. When she came upstairs for a bath she finally noticed something was wrong. "Are you ok, Mom?"
"Not really, Sweetie. I think I might puke."
"EWWWWWW! Don't puke on me! And don't puke in my room either!"
Ohhhhh, so all that vomit that I was planning to spew all over her Barbies should go somewhere else? I'm glad she said something. Who knows what I would have done otherwise.
I managed to keep everyone's room vomit-free and felt better the next day.
It seemed like a good time to talk to Lira about sensitivity.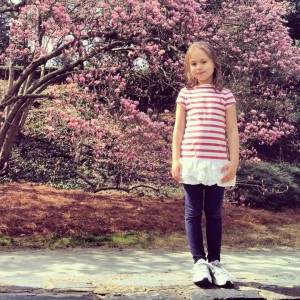 "Remember when Mommy was really sick yesterday and you told me not to throw up on you or in your room? Can you think of any other responses that may have been more kind?"
Blank stare.
Maybe she needs a hint. "How about something like… 'I hope you feel better soon?"
"Can I go color with chalk?" Man, I should have puked on that chalk.
"No– I want you to tell me what else you could have said. I was very sick and you were only worried about your room. What do you think you could have said instead?"
"Ok mom, you can throw up in my room. Now can I go color with chalk?"
And that, ladies and gentlemen, is how it's done. I'm sure that, from now on, Lira will be the most empathetic girl this side of the Mississippi. And I am free to get stick to my stomach in any room I choose. Success!
Anyone else have any award winning talks with your kids lately?