I have a thing for bargains. The best places to shop are TJMaxx (remember Zana's tantrum?), Marshall's, and eBay. My love affair with discount shopping began in high school, when I starved my way through lunch  so I could save $10 a week to spend on clothes. My weekly shopping budget has increased (slightly) over time, and so has my love of great deals.
Lately, thrift stores are my favorite. It all started one day after the girls' dance class on H Street… which just happens to be on the same block as a Salvation Army. Wasting a little time before Zana's nap, I decided to stop in for a quick look. Within 5 minutes I found a pair of like-new Tory Burch wedges and some Citizens of Humanity jeans. Total price tag? $13!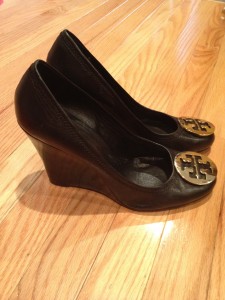 I was so excited  by the rows of disorganized racks of clothing that I barely noticed the disapproving stares while the girls played hide-and-seek around the store. I took them home, had my own personal fashion show,  and realized neither the jeans nor the shoes fit well. Not to worry: I sold them on eBay and came out $120 richer!
That was only the beginning. Now, I stop by that Salvation Army store every Saturday and rarely walk out empty handed.  I did some cleaning over the weekend and had a few boxes of things to give away. My favorite spot doesn't take donations, which made it the perfect excuse for me to discover a new thrift store. I ended up at the Goodwill on South Dakota Ave in NE, and it was so much fun! Plenty of space, and the dressing rooms were spacious and clean. In fact, it was a much better experience than my nightmarish trip to Burlington Coat Factory earlier in the day (picture a mom giving her kid nebulizer treatments while waiting in line to buy a Baby Phat romper. Son pukes Hawaiian Punch everywhere and she's annoyed at him. Don't worry, she still bought the romper.) But back to Goodwill… I spent $17 and left with 3 treasures: a green, dolman-sleeve sweater, a double-wrap belt, and a hot pink, Ann Taylor "Miracle Dress" (with tags still attached). Can you believe people just give this stuff away?! (says the lady who just dropped off a bag of like-new shoes that didn't fit quite right).
Anyway, here's what the dress looks like on the Ann Taylor website:
I'll post an updated pic of me wearing it when I get around to it (probably tomorrow).
Until then, I leave you with a few tips for thrift store shopping:
1. Know your labels. Why were those Tory Burch shoes just sitting there untouched? Because people don't know these things!
2. Try things on. Don't count on the sizing label; often times clothing is altered. Of course, if you plan to resell your finds then it doesn't matter.
3. Keep an open mind. You will have to rummage through dozens of blouses that someone's grandma wore in 1937 before you find that gem.
4. Have fun! If you don't enjoy the journey, don't even bother. You may find nothing! If that bothers you, stick to the department stores. Or bring a friend and enjoy a latte while you shop– you may accidentally find something.
Discount divas, did I miss anything? And where are your favorite places to shop for bargains?