Why does the second child have to grow up so much faster than the first?
Zana had her ballet showcase today and wore the same costume Lira wore in her recital last year. How does Lira's costume, from when she was 6, fit Zana, who's 4?  She's growing every day but some days, like today, I notice. Really notice.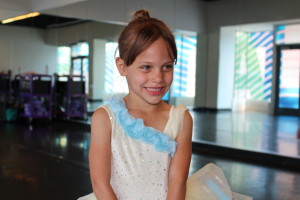 Zana was the only one dressed in costume at today's showcase: hair in a bun "because I'm a ballerina," smiling from ear to ear, so proud.  She couldn't have pointed those toes any better if she were wearing actual pointe slippers.
Our lives are moving so fast that we can't keep track of what's on the calendar from one day to the next. If we see a block of time that's free we wonder if the calendar is broken.  I want to… need to… stop and breathe. Take it all in. Let my 4-year-old's sweet breath fill my lungs and her sweet smile fill my soul.
Today I did.
Today I savored every hug.
Today I listened… really listened when she told me about her day. She giggled about the boy at school who kissed another girl who "wasn't even in her family!" She let me know that while some girls only wear dresses, she also really likes wearing shorts. She asked me what color I'd be if I weren't the color I am, and let me know that she'd probably be brown.
She told me she loved me, without me saying it first.
I'm sure it was no coincidence that today was one of her best behavior days on record. I may not always have time to blog (y'all still love me, right?), or to write thank you notes (sorry, Mom), or cook dinner (takeout works!), but I will… I must… make time for what matters.