I think we all remember this picture of Zana throwing a tantrum at TJMaxx: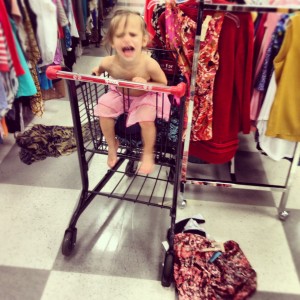 Zana was already famous among our friends and family for her epic meltdowns, but thanks to Mommy Shorts, she has hit Suri Cruise status. Zana is on the homepage of Mommy Shorts for a caption contest, and I would love it if MomInDCity readers would add to the list. There are already some hilarious entries, including:
"I would rather take a nap than buy Hannah Anderson at a discount!!!"
"Don't push your style on me woman – I will rebel."
"You expect me to wear that! Juicy is so last season!"
And, since Mommy Shorts is legit, this isn't just for entertainment; the winner gets a gorgeous $295 Hampton Tunic silk maternity dress. Not pregnant? So what?! You our your teenage daughter will be one day, right?
MomInDCity is too broke for prizes, but you can also enter a caption for the pic below in the comments section. Zana has been showing her stuff during out Bethany Beach vacation. Check out her latest meltdown outside of Grotto Pizza:
The Mommy Shorts caption contest ends Friday, but mine goes on for all eternity.