"Look– a Flynn Rider piñata! That would be perfect for your Rapunzel birthday party!" Yes, Lira and I are pouring over the internet, discussing the logistics of her December birthday. Don't all moms start planning 4 months in advance?
"Do you think you could find a Rapunzel piñata instead?" Lira asked.
"You and your friends don't want to line up and smack Rapunzel in the head, do you?" (For some reason, smacking Flynn in the head seemed ok. Maybe because he's pretty douchey for most of the movie.)
"What about if we line up to smack her in the face?"
I suppose we could beat Rapunzel senseless if it means we'll be showered in candy.
"Ok, we'll look for a Rapunzel piñata."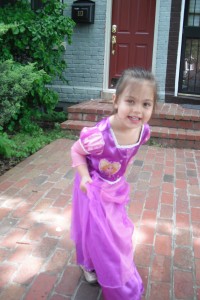 And so it begins…
I will spend hours over the next few months planning the details of this party: I've started a Pinterest board where I'm pinning ideas from a bunch of other over-the-top moms. I'll ask Dave countless logistical questions that he has zero interest in. And I'll bother all of my kid-less friends (those are the ones who have time) to help me with all the DIY decorations.
There are a few issues that come up every year, and I always think that if I start planning earlier I will figure it all out.
Which friends to invite? Classmates? Ballet friends? Swim friends? Neighborhood friends? Girls and boys? Just girls?
Where are we going to put everyone? When you live on the Hill in  DC and your house is the size of a shoebox, there's not much room for a party. Outside isn't an option because it's December. And every rental option is at least a couple hundred dollars, usually more. Last year we had it at our house and there were kids everywhere… even in closets and under beds.
What is my problem? No really. What is it? Why am I so obsessed with birthdays?
There should really be some sort of rehab for this…