"Look– a Flynn Rider piñata! That would be perfect for your Rapunzel birthday party!" Yes, Lira and I are pouring over the internet, discussing the logistics of her December birthday. Don't all moms start planning 4 months in advance?
"Do you think you could find a Rapunzel piñata instead?" Lira asked.
"You and your friends don't want to line up and smack Rapunzel in the head, do you?" (For some reason, smacking Flynn in the head seemed ok. Maybe because he's pretty douchey for most of the movie.)
"What about if we line up to smack her in the face?"
I suppose we could beat Rapunzel senseless if it means we'll be showered in candy.
"Ok, we'll look for a Rapunzel piñata."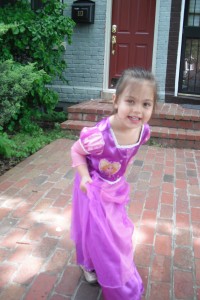 And so it begins… [Read more…]