I'm officially "that guy." The one who forgets our anniversary. Time to bow my head in shame and buy you two dozen roses. Happy belated Anniversary, MomInDCity readers! (It was last weekend– on Mother's Day, actually)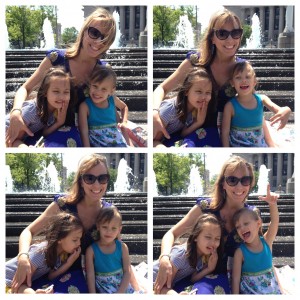 I've learned a lot this year—about myself and about you. For example, MomInDCity readers really like hearing about poop. Two of the three most read posts are potty-related: Potty Training and a Purse Full of Poop and Potty Party on the Front Porch. The third favorite was a picture of me in my exciting thrift store find.
Since you like poop so much, you probably also like farts, so I'll let you in on the latest dance move that Lira created. It's called a farté which is basically a plié combined with a fart. It's the cause of non-stop giggles—mainly from me because Lira puts on such a serious ballet face when she does it.
Oh, and another one for the vocabulary test: dicnic. I first learned this term after picking up sandwiches for an evening visit to Stanton Park. "We're having a picnic!" Lira exclaimed. "Actually, this is more like a dicnic. You know… a dinner picnic." Dave and I did our best not to spit out our drinks. We've been having dicnics for years and I never knew what to call them. I think dicnics are really going to catch on now that the weather has gotten nicer.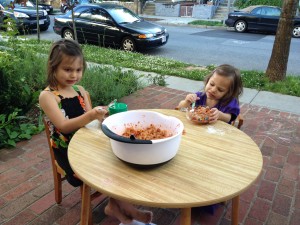 But back to our anniversary, you look beautiful tonight. Seriously, that color really brings out your eyes. I want to take this opportunity to thank you for your love and support this year. Thank you for reading, sharing, commenting on and supporting MomInDCity. I promise more of what you love: potty humor, photos of me in cheap clothing and reviews of all the must-sees and must-dos in DC.
XOXO,
MomInDCity