Sometimes, despite my best efforts, I'm tardy to the party.
Such is the case with "The Cupboard," a convenience store on 15th and East Capitol on the Hill.
I walk by this store every day and have never been inside, mainly because there are so many other convenience stores on 15th St where I can buy things like blunts, rolling papers, and Mad Dog 20/20. I do remember The Cupboard when it was the DC Express Mart, and figured the new name was just window dressing for another ghetto bodega. Nine out of ten people who walk out of a convenience store on 15th Street are holding a beverage in a paper bag… and it's not organic milk.
This brings me to how I finally decided to try The Cupboard. We were out of milk for Zana (again), and have been planning for two days now to go buy some. (I'm lucky Dave's mom can't find things on the Internet, because I'm pretty sure she'd call child protective services on us for that.) We got her a hot chocolate at Starbucks this morning and were hoping her dairy quota was met until after naptime, but she really wanted some milk..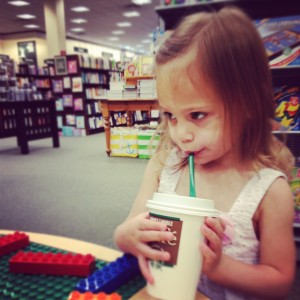 Dave: I'll run to Safeway when she falls asleep.
Me: She's going to scream about milk and not fall asleep until she gets some.
Dave: No she won't, she's fine (while watching a soccer game and ignoring a screaming Zana)
Me: I'm walking to the corner store to get some.
Dave: The Bella Market?? Are you looking for crack pipes or organic milk?
Me: Crack pipes– duh. No, I'm going to The Cupboard. Caroline says it has good stuff.
Dave: I bet you they won't have it either.
I knew there was something different about this place the second I walked in. For one thing, there was no bullet proof glass between the cashier and me. Also, not only was there organic 2% milk, but there was also organic 1%, organic skim and organic whole. I took a quick walk through the metal racks and saw Vita Coco (my favorite post-workout beverage), Spring Mill Bread, Green Mountain Coffee and quite the selection of wines and microbrews. Where has this place been all my life?
I paid $5.99 for a half gallon of milk (ouch) and happily walked home to hear Dave say "you were right." I should probably mention (for the non-DC readers) that groceries are generally more expensive here. The same milk at Harris Teeter is about $4.50. Will I regularly buy milk there? Probably not. But will I start frequenting The Cupboard for my last minute needs and forgotten items? Absolutely. I will make it my business to go there often and hope that my neighbors do the same. And don't worry about missing the old school convenience store experience. The Cupboard is wedged between a barber shop and Hong Kong Carry-Out, with its requisite bullet-proof glass. You'll still get to pass by all of your favorite characters enjoying their malt liquor outside.
So here's what I learned: if you want Fruit Barrels (think florescent colors and foil tops) and Funions, there's no need to worry. But if you want something more, don't take as long as I did to stop by The Cupboard. You will be glad that you did.